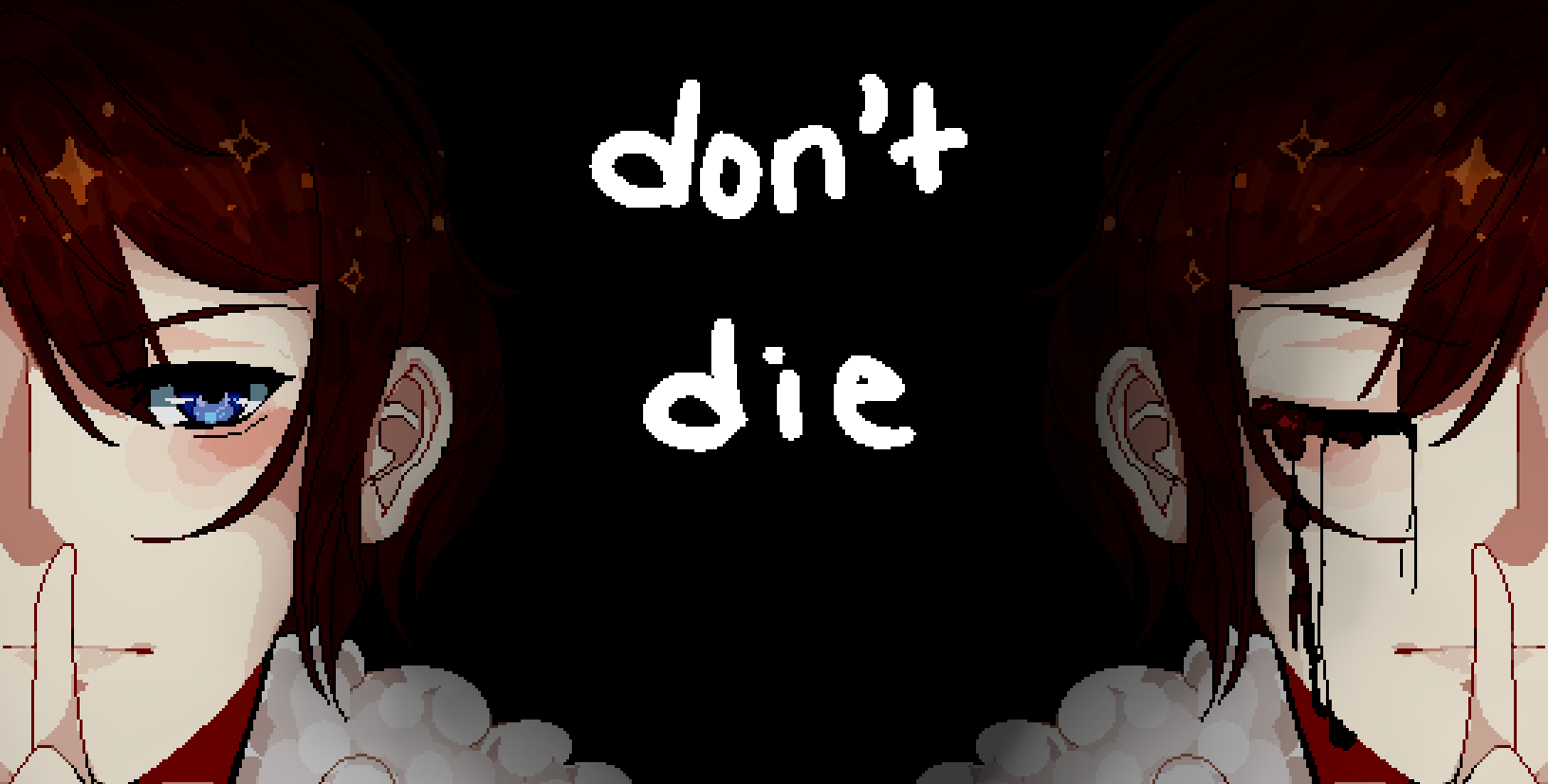 Don't Die
Henry Baker is a normal guy. Really. So after another day of work, it's your job to help him go through his evening and finally go to bed. Easy, right?

Overall the gameplay is frustrating and repetitive, with a VERY silly tone to it. Don't play if you're not in the mood for laughs and if you plan on taking this game seriously.
In the end, if everything is done right, it will take around 10-20 minutes to beat. If not... well, it could take a while.

○ Included ○
• Original artwork (not tilesets haha)
• Lots of crude language for the laughs
• A character you will either love or want to kill
• A second ending!?
• A "bonus room"
• Lots of different ways to die!
• Only one save file :(
• A probably very repetitive beginning

• No walkthrough (yet).

○ Contact ○
okamen.art1@gmail.com
○ Changelog ○
09/22/2017 - Initial release
09/27/2017 - Updated dialogue, can't put away the paper in the corner of Henry's bedroom anymore.
10/25/2017 - There's an error whenever you get to the end of the game; go into the audio file and take the special symbols out of the "Solace" song (otherwise known as sad piano music). be sure to change this before you play so you don't lose all your progress. I'm trying to fix it but for some reason there hasn't been much of a change. ALSO WALKTHROUGH ADDED

Install instructions
It is highly suggested to read the text file titled "READ ME FIRST PLEASE". Other than that, just unzip the folder and open the ".exe" file! And don't forget to download the RTP (run time package) so you can actually run the game! you can get it here: http://www.rpgmakerweb.com/download/additional/run-time-packages
With the walkthrough, PLEASE PLEASE PLEASE read the developer's note first
Comments
Log in with itch.io to leave a comment.
the lack of a chalk consumption death is really disappointing, but the game is great!
Please what to do after turning the Lights out, get the Sword and noticing that the Door to my Room and the Bathroom are locked.
Look around the hallways and see if there's a key nearby!
Found it. You should fix the "Unable to find file audio/bgm/sad piano music...." It should be named "♩♫ Sad Piano Music ♪♬ - Solstice (Copyright and Royalty Free)"

Now how to get the Second Ending? I looked and tried every think I can think of.

Second ending is really a very very VERY optional ending, kind of like a "secret ending", so i'm not really interested in going so deep into it. you can totally get it before you even make dinner, so try to interact with everything that won't kill you! ((hint hint: if you've looked around the house enough, you should notice something with Henry's family. there's something in Henry's room that is definitely important to that story line, maybe after you check everything you should investigate))
what's strange about the music file is that it's fixed for me. I'm gonna try and reupload the game and hope it gets fixed, i'm so sorry about that!
also i'm so sorry for the late replies! i'm happy to see you interested in my game, I've just got a full plate right now and I tend to forget to check my messages